Bed bugs are small pests that can ruin your home and force you to take drastic measures to reclaim it. The pests are sometimes hard to spot and even harder to eradicate, especially given the fact that they rapidly reproduce and are very hardy. Only exterminators will be able to fully remove them from your home, but the aftermath may be devastating. In addition to the physical injuries relating to the bites, you may have to throw out all of your furniture and purchase new pieces. The entire ordeal can be a traumatizing and expensive endeavor, and you should not be held responsible for the expenses if you were not at fault. You did not put the bed bugs in your furniture to create pandemonium in your home. Although the furniture store also did not likely put the bed bugs there, they did not do their due diligence in adequately cleaning the furniture, and can be blamed for the incident. Used furniture stores are perhaps the biggest culprits of not properly cleaning donated goods, especially cheaper companies that want to turn quick profits.
Our attorneys at the Bed Bug Legal Group can sue the furniture store or any other entity that caused you damages. Our bed bug lawyers provide national representation and we can handle cases in all cities and states including New York, Los Angeles, Chicago, Indianapolis, Houston, Phoenix, Philadelphia, Dallas, San Jose, Fort Worth, Charlotte, Austin, San Antonio, San Francisco, San Diego, Jacksonville, Columbus, Seattle, Denver, and El Paso.
What Are Bed Bugs?


First things first: what are bed bugs and how do they cause so many problems?
Bed bugs are very small insects that subsist on blood. They are usually no more than 5mm in length and can fit on the face of a dime. They are reddish-brown in color with flat bodies. Sometimes, people confuse them with fleas, but fleas are noticeably larger and have a slightly different body shape. Their movements are also different: fleas have the incredible ability to leap distances hugely disproportionate to their tiny body sizes, while bed bugs can only crawl from place to place.
The insects have certain qualities that make them pests. For starters, their main form of nourishment is blood; they come out at night to bite hosts and suck blood until they are engorged. Bed bugs may make numerous bites in one night before retreating to their dark nests. Bed bug bites can be serious if left untreated or if the bug were carrying a transmittable disease.
People generally do not feel when bed bugs bite them because the creatures have an anesthetic agent in their saliva that numbs the bitten area. Their saliva also contains an anticoagulant that prevents the blood from clotting so they can drink for as long as they want. This can all be a problem because it may be some time before people realize that bed bugs are the actual problem. However, if you wake up to any telltale signs of bed bugs, such as blood spots on the sheets or zig zag bite patterns on your body, you should immediately search the area for the pests, especially if you recently purchased goods from a used furniture store.
Bed bugs may require you to throw out your furniture and have your house fumigated. This is not cheap, and the store you bought your furniture from should be held responsible. Our attorneys can help you file a lawsuit for bed bugs in used furniture.
Where Do Bed Bugs Stay?
Bed bugs can be found anywhere. They may be present on a chair or inside a loveseat, on a mattress or under a bed frame, or on accessories like footrests and end tables. The creatures prefer to nest in dark, damp areas that are close to where their victims sleep. Bed bugs in a couch, therefore, may come out when someone stays on the couch overnight; the bugs likely won't be readily apparent, as they would be inside the cushions and beneath the folds of the fabric. Only by really searching will you be able to find them.
In addition to couch cushions, bed bugs will make their nests away from the furniture as well. They may be behind bed boards, outlets, picture frames, and inside pillowcases. It is important to search what you buy at the store: pre-owned furniture that has bed bugs can cause numerous problems in your home.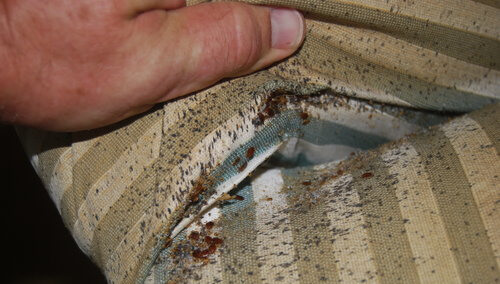 For more information, contact a lawyer for bed bug contraction from used furniture and used couches.
Bed Bugs from Used Furniture Stores and Furniture Rental Stores
Buying used items is occasionally a great way to save money, as the material may not have been used extensively and is just like new. In other cases, however, it may have been in use for some time, and it shows. Some furniture is owned and used by people who are not the cleanest or who have contracted a bed bug home infestation and need to liquidate their belongings. It is crucial that the used couch store or furniture store cleans these items before reselling them, even if they were promised to be clean. There is simply no point in taking a risk and potentially facing a lawsuit because of bed bugs infesting someone's home.
There are all sorts of furniture stores that sell or rent used items. At our law firm, we have taken on cases where people have gotten bed bugs from stores such as Rent A Center, Aarons, Affordable Rent-to-Own, Buddy's Home Furnishings, ColorTyme, Rent-to-Own, Conn's Home Plus, FlexShopper, National Rent-to-Own, Rent-2-Own, and Rent One. Many of these stores may be lesser known and smaller than others, but that does not mean that their larger, more corporate counterparts are not also guilty of selling used furniture that had bed bugs in it. For example, we have also seen cases of bed bugs from the Sears Lease It Program and Kmart's Lease-and-Go Program. Any used furniture rental store that rents out a furniture that's infested with bed bugs would be liable under the law because they have placed a defective product in the stream of commerce. Similarly, if they sold you a bed bug infested furniture or mattress, they would be liable for the same reason.
Used furniture stores have a duty to provide you with sanitary furniture. If they breach this duty and you contract bed bugs as a result, you can sue for financial compensation. Call our law firm to speak with a bed bug lawyer to sue a used furniture store for bed bug infestation.
What Do I Do If I Have Bed Bugs? Can I Sue?
If you find that you have bed bugs from purchasing used furniture, you should immediately do everything you can to get the situation under control and to document your evidence. It can be difficult to prove, but with proper evidence, your claim can be greatly bolstered. Similarly, if you rented furniture and later found out that the furniture had bed bugs, you can sue the store that rented the furniture. The furniture can be a couch, chair, coffee table, dining table, or any other kind of used furniture.
First, you should immediately search for any other locations of nests, including other furniture and in dark or damp places. Next, take photographs and videos of the affected areas. You may see skins that were shed by juveniles, small black droppings, dark stains on the fabric, and tiny cream-colored eggs. If you were bitten, you should also photograph your wounds. It can come in handy to go to the doctor and get medical proof that you were bitten by bed bugs.
The store will likely claim that it did clean the furniture and that you were the party responsible for bringing bed bugs into your own home. Our attorneys will do everything we can to win your case and prove that the store was negligent in its duties. Our goal is to bring you compensation from a bed bug contraction lawsuit for bed bugs from pre-owned furniture.
How Do I File a Bed Bug Infestation Lawsuit? Can I Sue Them Myself?
If you try to sue yourself, you will likely not get anywhere. The responsible parties know all the legal excuses to get out of paying you anything. With the help of one of our attorneys, you can file a lawsuit against the store responsible for selling you tainted furniture. You can collect various forms of compensation from this lawsuit if victorious, including the costs of replacing the furniture, fumigating your home, covering your medical expenses, and dealing with your emotional damages stemming from the incident.
Do not let your home get infested without any way to fix it. You can file a personal injury lawsuit with the Bed Bug Legal Group today.
Our Law Firm's Role
Here at the Bed Bug Legal Group, our attorneys have dealt with claims related to the pests for years. We know that any infestation is a nightmare, and the situation can be made exponentially worse when you realize the store you trusted was at fault. The silver lining is the knowledge that compensation is available, and our skilled lawyers can help you get it in the form of a bed bug infestation lawsuit against a furniture store.
While you deal with the situation at home, we will handle the litigation process with the store and the store's insurance agency. We promise to aggressively work to bring you a settlement you are satisfied with, one that covers all of the necessary expenses related to your infestation. We will not stop until you are taken care of.
Call us today to receive a free legal consultation with an experienced attorney. You are invited to ask us any questions about the legal process and we will give you necessary information and advice about what to do moving forward to file a lawsuit, and we want to make the process as transparent and easy to understand as possible.
Furniture Rental Stores in LA county
Craft Home
Yeah! Rentals
CasaOne
Brook Furniture Rental
Fashion Furniture Rental
Tara Design
Nest Studio Rentals
Atomic Threshold
Home Stagers Warehouse Furniture Rental
Aim Rental
Steel Santos
Picture Start Props
Victory Props
American Rent All
Posh Furniture
FormDecor Furniture Rental
Pacific Staging
Vitality Casegoods Restorations & Furniture Manufacturing
American Furniture Rentals
Rent-A-Center
Bridge Furniture & Props
LA Bound Babies
MSI Office Furniture
Dolphin Event Services
Kawaii – Los Angeles
Chutan's Warehouse
Expertise Office Furniture
Rent-A-Center
Mark Saalwaechter – BabyQuip Baby Equipment Rentals
Patio Heaven
Aguila Office Solutions
Express Furniture Rental
Rent-A-Center
Massage Central
Fashion Furniture Leasing
When you take on our legal services, you also receive a zero fee guarantee on your case. This means that you will pay no out of pocket expenses throughout the entire case. We only collect payment if we win, and that payment comes out of the settlement we earn for you. If we lose, you owe us nothing. We do this to ensure that you remain financially stable and will not suffer for pursuing legal action against a responsible party.
Contact the Bed Bug Legal Group today to speak with a bed bug attorney to sue the furniture store for bed bugs. Our law firm provides national representation and we have handled cases coming out of New York, Los Angeles, Chicago, Houston, Phoenix, Philadelphia, San Antonio, San Diego, Dallas, San Jose, Austin, Jacksonville, San Francisco, Columbus, Indianapolis, Fort Worth, Charlotte, Seattle, Denver, and El Paso.
Other Pages on Our Website Regarding Furniture Bed Bug Infestations