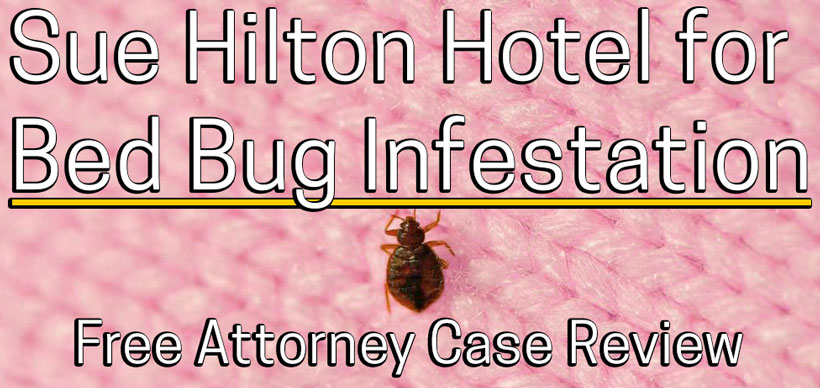 Have you been bitten by bed bugs while staying at a Hilton Hotel? If so, you should be aware that there are legal paths you can take to pursue fair compensation for bed bugs at a hotel. You should not be tasked with paying your own debts and expenses stemming from the infestation – as per the Hilton Hotel bed bugs policy, you should be issued a Hilton Hotel bed bugs refund. However, you can also file a Hilton Hotel bed bug lawsuit to receive the maximum compensation available. It is in your best interest to reach out to a bed bug law firm for bed bug injuries at Hilton Hotel – and our Los Angeles law firm can help. The Bed Bug Legal Group can provide you with a lawyer with experience in bed bug lawsuits against Hilton Hotel.
What are bed bugs?
Bed bugs are small, flat-bodied, round creatures that are sometimes confused with fleas, which are larger and lighter as opposed to reddish brown. The most noticeable difference is the method of movement – fleas can jump extremely far distances, while bed bugs can only crawl around.
What kind of physical harm can bed bugs inflict?
Bed bugs can bite you without causing any pain or making you even notice it because of the anesthetic in their saliva, and they can drink blood from you for minutes at a time thanks to an anti-coagulant. Their bites show up after a few hours or a few days, which can be problematic if you are traveling around and cannot pinpoint what hotel housed the bed bugs.
The insects do not transmit diseases despite feasting on blood, but the bites can become irritated and blister, especially if they are scratched. This can result in infections and other problems.
Where do beg bugs make nests?
Bed bugs generally make nests in places that don't receive a lot of light and that are damp and near their victims. They usually reside near couches and beds; they may be found behind picture frames and electrical outlets, in crevices like where the carpet meets the wall and between the headboard and the rest of the bed, inside couch cushions and upholstery, beneath couches and nightstands, inside the creases of mattresses.
How can I tell if there are bed bugs in a Hilton Hotel room?
The easiest way to find bed bugs is to search for their eggs, which are small, cream colored, and oval. You can also look for the left-behind exoskeletons that have been shed by bed bugs reaching maturity. There will also be signs of bed bugs on the sheets, whether as dried blood stains or small brown mounds, which are droppings.
Where can I read Hilton Hotel bed bug reports?
You can search the internet and trip or travel websites to see if there have been any reports of bed bugs in specific Hilton Hotel rooms. It can come in handy when making a decision about where you wish to stay.
Can a lawyer tell me how to report bed bugs at a hotel?
Yes, a lawyer can tell you how to report bed bugs at a hotel, but it is generally not a good idea to do so without first acquiring your evidence. If you report the incident to hotel staff, they will very likely remove you from the room and clean it, preventing you from gathering proof that there were bed bugs there.
Can I sue Hilton Hotel for bed bug bites?
Yes, you can sue Hilton Hotel for bed bug bites. Hotels must provide safe and healthy living quarters for their occupants, and if they violate that safety regulation, they are subject to fines and other actions. If you are bitten while at a hotel, you can sue the establishment for damages.
For more information, you can reach out to one of our attorneys to sue Hilton Hotel for bed bugs in your room.
Can I sue Hilton Hotel for bed bugs in my room which injured me?
Yes, you can sue Hilton Hotel for bed bugs in your room which injured you. You must be able to show that you were owed a duty of care that was breached (which can be true given the fact that the owner did not properly clean the room or remove the infestation), which then led to an accident resulting in physical harm (bites).
You may wish to file a bed bug lawsuit against Hilton Hotel. If so, call our lawyers in Los Angeles that can sue Hilton Hotel for bed bug injuries.
What should I do after getting bit in a hotel?
After suffering bites from bed bugs in a hotel, you should immediately go to the doctor to make sure your injuries are not serious. You can receive some treatment for the bites. It is helpful to take pictures of the damage to your body to show that you were bitten while at the hotel.
You also should take photos of the nests and bugs themselves if you can. It will help solidify your claim that there were bed bugs in the room and that they bit you.
After that, you can alert hotel staff to file an incident report. Make sure not to accept any vouchers, benefits, or compensations from the manager, as it will hurt your chances of winning a lawsuit later on.
It's necessary to also print out any receipts showing that you paid for the hotel room. If you were not a guest of the hotel, you would not be able to take effective legal action against them.
Lastly, you should contact a bed bug attorney for bed bug bites at Hilton Hotel. We can make sure you receive the fairest compensation possible and will handle your case for you, from start to finish.
Do I need a lawyer to sue Hilton Hotel for bed bug bites?
It is highly recommended that you hire an attorney if you wish to take legal action against Hilton Hotel. This is because it requires a lot of time, dedication, energy, and money to deal with a lawsuit. You may find that it is extremely hard for you to get a hold of the insurance agent and to negotiate a better deal. Our lawyers will stay on top of your claim while you focus on recovering. If you suffered an infestation at home, it is extremely important that you vacate and get it cleaned so you can return. During that ordeal, it would be problematic for you to pursue a lawsuit against Hilton Hotel, and we can help.
How long do I have to file a lawsuit?
Per California law, you have two years from the date of the injury to file a lawsuit against Hilton Hotel for bed bug injuries. This statute of limitations is in place to ensure that claims are handled efficiently and on time; if they take too long, it muddles the system. Further, witnesses can forget key information and the defendant might not even be in business anymore.
There are some exceptions to this statute, such as your age (if you were underage, the deadline would not start until you turned 18). A skilled attorney for bed bug injuries at Hilton Hotel can give you more details and help you sue Hilton Hotel for bed bug injuries.
What can I receive in a claim?
If you are claiming compensation for bed bug bites, you may be able to receive coverage for your medical expenses, lost wages at work, damaged property and belongings, emotional pain and suffering, and more. Our lawyers will work hard to bring you the maximum settlement available under the law.
Talk with an expert lawyer for more Hilton Hotel bed bug lawsuit information.
How do you help?
The Bed Bug Legal Group in Los Angeles is the premier law firm for assisting those who have been harmed by bed bugs in a Hilton Hotel. We have years of experience handling these types of claims and our aggressive lawyers know what it takes to win. We have numerous strategies that we can employ to negotiate the best deal with the insurance agent, and if we are not satisfied with the offer, or if the Hilton Hotel is being particularly resistant to settling we will take your case to court before a judge and fight for your rights as a victim.
Contact our law firm today to receive a free legal consultation with a qualified attorney. You are encouraged to learn as much as you can about the legal process and what we can do for you, and we will give you our opinion on your case and its worth. We will also tell you about our zero fee guarantee, which promises that you won't touch your savings throughout the case if we represent you – we will only get paid if we win and the money will come from the settlement given to you by Hilton Hotel. If we lose, we eat the costs of the case and you owe us nothing at all.
For more details on Hilton Hotel bed bugs compensation, reach out to an attorney at the Bed Bug Legal Group in Los Angeles.