South Carolina and its major cities are at the heart of the bed big infestation explosion in the country. In fact the past decade has witnessed thousands of bed bug bite incidents resulting in hundreds of millions of dollars in damages incurred by victims and their families. Bed bugs are small wingless and flat insects which feed off the blood of unsuspecting victims who are asleep in hotel rooms and apartment buildings. They are most frequently found in hot and humid areas. Within buildings, they are most likely to be found in dark places like crevices of the walls, inside drawers, under mattresses, and around the bed. A classic sign of a bed bug infestation is blood spots on your sheets, since the bugs like to puncture the human victim's skin and take blood.
Our South Carolina bed bug attorneys are dedicated to providing justice on behalf of victims, who have suffered grievous injuries due to bed bug infestations in Myrtle Beach, Charleston, and Columbia South Carolina. If you have any legal questions after reading this article feel free to contact our law offices. All legal consultations and case reviews are provided 100% free of charge.

Common Locations and Causes of Bed bug Infestation and Bites
Below is a list of the most common places where bed bug infestations take place.
Hotel rooms, motels, long term living residences, hostels and resorts. The size, location and star rating does not necessarily correlate to the presence of bed bugs infestations. Bed bug bites can takes place anywhere ranging from expensive five star hotels to small roadside motels.
Residential apartment buildings – usually low income apartment units, although we have seen major infestations in luxury apartment buildings too especially bed bugs in the Myrtle Beach region.
Nursing homes, elderly care centers and long term assisted living apartments: South Carolina has one of the oldest populations in the United States.
Mattress stores and used furniture stores.
Military barracks and naval facilities.
Hospitals, urgent care centers, treatment facilities, and chiropractor offices.
What to Do – Steps to Take After a Bed Bug Bite Incident
Below we will provide an outline of the steps one should take if planning to hire a bed bug lawyer to
sue a hotel or landlord for bed bug bites. These are steps that one should take in an ideal situation. However, we do realize that
sometimes you don't know what to do or you are caught up with the horror of the situation. Not taking these steps does not necessarily ruin your chances of getting compensated. Please contact our law offices to find out what our skilled attorneys can do for you.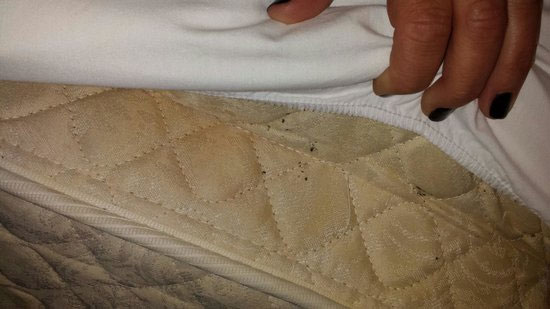 Take pictures of the bites and of bed bugs. Look for the hive of bed bugs. Usually somewhere in the mattress, or bed post.
Seek medical attention. There are two purposes for this. Number one, you want to seek medical attention for your injuries because you want to take care of your health concerns. You don't want to let the injuries get worse over time. Number two, in a personal injury lawsuit, it is important for you to have documentation of your injuries. A medical report could be critical in proving the extent of your injuries.
File an incident report with the hotel. Ask for a copy of the report.
Ask the hotel for insurance information.
DO NOT speak with the hotel or insurance adjuster regarding settlement. Any comment made to them can be used to reduce your right to recovery. If they offer to pay you a little bit of money to get you to sign a claim release form, releasing them of all future liabiity, refuse to do so.
Contact a competent bed bug injury attorney.
Statute of Limitations – Deadline for Filing a Bed Bug Injury Lawsuit in South Carolina
In the state of South Carolina victims of personal injury including bed bug bite injury claims will typically have three years from the date of the incident to file a lawsuit in the court of law. Victims who are minors, under the age of 18, typically have three years from the date of their 18th birthday to file a personal injury civil lawsuit in a South Carolina court.
Victims Right to Recovery – Financial Compensation for Your Bed Bug Bite Injuries
Under the common law system of jurisprudence victims of harm due to the negligent, wrongful or illegal acts of others are entitled to financial compensation for all damages they have suffered. The potential value of a bed bug bite personal injury claim is based on several important factors unique to every case. Below you will find a list of the most important factors in determining the potential value of your case.
The severity of the bites you have suffered: The number of bites inflicted, the location of the bites, whether the bites have resulted in infections, allergic reaction or any other secondary harm including permanent scarring and disfigurement.
Current and future cost of medical treatment associated with the injuries suffered. More expensive and extensive medical treatment typically means higher damages, and higher case value.
Damage or destruction of property – including clothes, mattresses, furniture and other personal household items.
Level of economic damages: This includes lost wages and future loss of income due to the injuries suffered by the victim.
Level of Pain and Suffering: Victims of beg bug bites and extensive infestations often suffer from prolonged bouts of psychological damage including depression, PTSD, insomnia and anxiety. More so many victims must deal with the humiliation of bed bug infestations in their homes, and the anxiety regarding when the bed bugs will attack next.
Availability for Punitive Damages: In the state of South Carolina courts will often grant the issuance of punitive damages where it is found that the at fault party acted in an intentional or egregious fashion resulting in severe damage to others. For more information regarding this, please contact our bed bug attorney in South Carolina.
Costs of Hiring an Attorney
Many individuals hesitate to contact an attorney because of the apparent high costs of legal representation. Unfortunately, may attorneys will charge an upfront fee and hourly fees to help injured victims. Our law firm does not charge any upfront fees. Our legal associates and attorneys provide legal representation for personal injury claims exclusively on a contingency fee basis. Our clients will not have to pay out of pocket for any legal fees or costs until there is a successful resolution of your case. And if for any reason we are not able to win your case you will not owe us a single penny.
Legal Consultation and Case Review Available Free of Charge
Our attorneys are able to provide all victims of bed bug bites with a free no cost case evaluation. Our bed bug attorneys can help in South Carolina and the rest of the United States.
84 Best Hotels in South Carolina
Bed bugs are small insects that feed off human blood. South Carolina is currently experiencing a surge in bed bug cases, making many people fall victim to their prey. While small in stature, these little creatures can cause quite an upheaval by silently drawing blood from humans in their sleep, which forms itchy welts at the area of contact. Here is a list of the top 100 hotels in South Carolina that may be subject to bed bug infestations. If you've visited one of these hotels listed and have faced a battle with bed bugs there, contact us a today to get help in filing a lawsuit.
Beachcomber Vacations
Best Western Ocean Sands Beach Resort
Boardwalk Beach Resort
The Breakers Resort
Camelot by the Sea Resort
Captain's Quarters Oceanfront Resort
The Caravelle Resort
Caribbean Resort & Villas
Carolina Winds Resort
Carolinian Beach Resort
Castaway Beach Inn
Compass Cove Oceanfront Resort
Condo-World
Coral Beach Resort & Suites
Crown Reef Beach Resort and Waterpark
Dayton House Oceanfront Resort
Dunes Realty Vacation Rentals
Dunes Village Resort
Elliott Beach Rentals
Forest Dunes Resort
Garden City Realty Vacation Rentals & Sales
Grande Shores Ocean Resort
Hilton Myrtle Beach at Kingston Resorts
Holiday Inn – "At the Pavilion"
Holiday Sands North "On the Boardwalk"
Holiday Sands South
hotel BLUE
Island Vista
Lakewood Camping Resort
Landmark Oceanfront Resort
Long Bay Resort
Marina Inn at Grande Dunes
McMillan Real Estate
Myrtle Beach KOA Campground
Myrtle Beach Marriott Resort & Spa at Grande Dunes
Myrtle Beach Resort Vacations
Myrtle Beach Travel Park
MyrtleBeachSpecials.com
MyrtleBeachVacationRentals.com
North Beach Plantation
Ocean Creek Resort
Ocean Front Viking Motel
Ocean Lakes Family Campground
Ocean Park Resort
Ocean Plaza Motel
Ocean Reef Resort
Oceanfront Litchfield Inn
The Palace Resort
Palmetto Vacation Rentals
Palms Resort, The
Paradise Resort
The Patricia Grand
PirateLand Family Camping Resort
Polynesian Beach & Golf Resort
Prince Resort at the Cherry Grove Pier
Regency Towers
Residence Inn Myrtle Beach
Roxanne Towers
Sandcastle Oceanfront Resort at the Pavilion
Sandy Beach Resort
Sea Crest Oceanfront Resort
Sea Dip Oceanfront & Condo
Sea Mist Oceanfront
Sea Star Realty
Sea Watch Resort
SeaSide Resort
Seaside Vacations
South Bay Inn and Suites
South Wind on the Ocean
The Strand
Surfmaster By the Sea Oceanfront Rentals
Surfside Beach Oceanfront Hotel
Surfside Realty Beach Vacations
Thomas Beach Vacations
Vacation Myrtle Beach Resorts
Vacation Rentals of North Myrtle Beach
Waikiki Village Motel
Willow Tree RV Resort
Anderson Ocean Club & Spa
Avista Resort
Bay View on the Boardwalk
Bay Watch Resort & Conference Center
Beach Colony Resort
Beach Cove Resort