The presence of a bed bug infestation can lead to various troubles no matter where the bugs are. You may notice them at an AirBNB and run the risk of taking them home with you, or they may be present in a hotel room. In some of the worst cases, bed bugs could be located in your home prior to you even moving in. Thankfully, there are legal actions you can take to receive compensation if you suffered bed bug bites. Our law firm, the Bed Bug Legal Group, can provide you with an expert team of bed bug attorneys in Sterling Heights, Detroit, Grand Rapids, Warren, Ann Arbor to handle your case. We will help you file an apartment bed bug infestation lawsuit for apartment buildings in Warren, Sterling Heights, Ann Arbor, Detroit, Grand Rapids if your landlord is responsible, or we can sue a motel or hotel for bed bugs in Michigan if you stayed in a contaminated room.
Important Information About Bed Bugs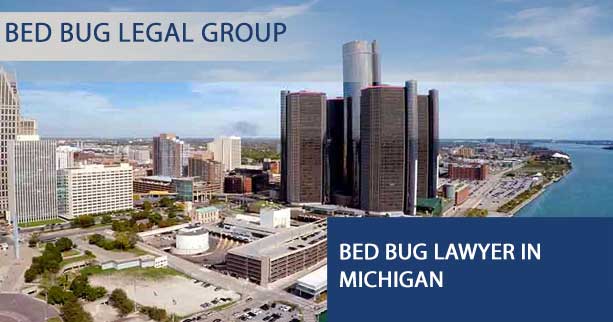 Bed bugs are insects that feast on human blood, dubbed so because they tend to bite when you're asleep in bed. They are generally found near beds and couches in damp, dark places and are attracted to body heat. It is difficult to notice a bed bug infestation, especially if you are only staying somewhere for a short while. The creatures are nocturnal and prefer to come out when their victims are asleep, where they can feast on exposed sections of skin.
To identify bed bugs, you should look for small, reddish-brown, flat-bodied, round bugs that can only crawl. If they just feasted, they will be engorged with blood. They are sometimes confused with fleas because both like to drink blood and are found near beds; however, fleas tend to stay near animal beds and on pets themselves. Further, fleas can jump very long distances, so if you see a bug that cannot fly nor jump, it is more than likely a bed bug.
Bed bug bites can be troublesome to deal with. Although the creatures do not transmit diseases, their bites can cause allergic reactions, and some individuals may scratch at the bites and cause them to open, creating sores. The main issue with the bites is the length of time it takes for them to show up – anywhere from a few hours to a few days after the incident. As a result, you could have left the location you were staying at before the bites even manifested.
The bites themselves are raised, red welts that are mildly itchy and appear in a zigzag pattern on the body. The reason you do not feel the bites is due to chemicals present in the saliva of the bed bugs – they anesthetize the area and then prevent the blood from clotting thanks to an anti-coagulant.
Further, bed bugs are notoriously hardy and can survive many conditions, including the lack of a meal. They can go weeks at a time without feasting on any blood, which can cause you to think that an infestation is over with – or that there was none in the first place.
For more details, call a lawyer for bed bugs in Detroit, Grand Rapids, Warren, Sterling Heights, Ann Arbor.
Can I File A Lawsuit For Bed Bug Bites?
Yes, you can file a lawsuit for bed bug bites. Bed bug bites are serious injuries, and any property owner that allows guests to be injured in such a way should be made to cover the ensuing expenses. You can sue your landlord in Michigan for bed bugs or sue a hotel in Michigan for bed bugs if you were bitten on either premises and it can be shown that the property owner was negligent, and therefore, liable.
Can You Sue Your Landlord For Bed Bugs?
If you are wondering, "Can I sue my landlord for bed bugs in Michigan," the answer is yes, you can sue your landlord for bed bugs. Your landlord has to provide tenants with safe living spaces that are contamination-free. Some landlords refuse to clean up mold, vermin, termites, rot, and more that can all contribute to incidents and injuries. Bed bugs fall under this category, and they can wreak havoc on a home.
In the event you brought bed bugs into your home after moving in, you will not be able to sue your landlord for any damages. You were responsible for the incident, and thus, you have no grounds for a lawsuit. On the other hand, if your landlord caused the infestation, he could be sued. He may have brought in furniture that was infested, for example, while furnishing the home.
Your landlord can be held accountable if he knew there was an infestation and took no action to correct it, if he caused the problem, or if he should have reasonably known about the trouble but did not due to his own negligence and lack of diligence.
For help suing your landlord, call a bed bug lawyer for apartment bed bug infestations in Michigan.
Can You File A Claim Against A Hotel For Bed Bugs?
Hotels and other businesses in the hospitality industry must provide customers with safe spaces. Customers are invitees under the law and are owed the highest duty of care. If there is a violation of this duty of care that led to an accident and physical injuries, you could take legal action.
A common problem with hotels and bed bugs is the prevalence of the problem and the unwillingness to correct it. Bed bugs can easily move from one room to another and cause a building-wide infestation, but the hotel owner may not want to shut down business while all the creatures are exterminated. Often, he will simply rent out rooms and if there are any complaints he will have his cleaning staff tend to it. The problem is seldom fixed, if ever, and the bugs still run rampant.
Some of the hotels that we have filed claims against include:
Hampton Inn
La Quinta Inn
MGM
Howard Johnson
Red Lion Hotel
Holiday Inn
Marriott Hotel
Motel 6
Courtyard Marriott
Days Inn
Fairfield Inn
Hilton Hotel
Best Western
Choice Hotels
Extended Stay America
Quality Inn
Red Roof Inn
Super 8
To speak with a bed bug lawsuit attorney in Michigan for bed bug bites in a hotel, contact our firm at once.
Steps To Take To File A Bed Bug Lawsuit In Michigan
If you have been bitten by bed bugs, you should immediately get medical attention to ensure that the damages are not terribly severe. If you suffered any allergic reactions, the doctor can treat you. It is important that you get medical help quickly; the longer you wait, the more difficult it ill be to prove that you were bitten at the place you claim. The insurance agent can state that the long gap between the incident and the treatment means you were hurt elsewhere and you are merely trying to blame the defendant.
Next, you should take photos of your injuries and keep the medical notes to support your damages.
Photos of the bed bugs and their nests will also come in handy. You can find nests by looking for cream colored eggs, droppings, bloodstains on sheets, and exoskeletons. The bugs usually nest behind paintings, underneath bed frames and box springs, inside cushions and drawers, below headboards, behind base boards, in electrical outlets, and more.
Once you have acquired your evidence, then you can go to the property owner to alert him. You should always wait to do this so that you cannot be removed from the premises while a cleaning happens, thus eliminating any chance you have to gather proof. You should not accept any compensation from the party, like a discounted hotel room, a free month's rent, or something else. It can damage your claim.
Lastly, contact an attorney for bed bug infestations in Michigan and cities like Detroit, Grand Rapids, Warren, Sterling Heights, Ann Arbor. We'll be able to handle your lawsuit for you and will not stop until we are satisfied with the offer. You can be safe from the stress of the legal process and focus on returning to a normal life.
Average Value Of A Bed Bug Lawsuit Case
Clients often ask us about the settlement amount for a bed bug lawsuit claim against your landlord or a hotel. There is no outright way to tell how much a claim is worth, but you can rest assured that the more damages you suffered and the more extensive they were, the highest your offer will likely be. Our lawyers will strive to bring you coverage for the following:
Medical expenses
Property damage
Extermination and fumigation fees
Lost wages at work
Pain and suffering
The Bed Bug Legal Group: Here for You
If you need a Michigan bed bug attorney, look no further than the Bed Bug Legal Group. We will aggressively work around the clock to bring you the compensation you deserve if you were bitten by bed bugs while at an establishment, even if it's your own apartment. Call us today for a free legal consultation with an expert lawyer. We'll answer all your questions and tell you more about our zero fee guarantee, which promises that you won't pay a single dime of your money throughout the case.
To speak with a bed bug lawyer in Michigan, reach out to our firm, the Bed Bug Legal Group.